Tanya Crevier helps a Cole Elementary school student spin a basketball atop a pen while hula-hooping. Farin Montañez/The Clovis Independent By Farin Montañez

The Clovis Independent



All eyes were trained on Tanya Crevier, the best woman basketball handler, as she spun the orbs in a way that would make the Harlem Globetrotters dizzy. Basketballs were spinning across Crevier's back, on a hula hoop, on water bottles, on pens held by brave volunteers and atop a pole that stretched to the ceiling.

Following Crevier's spintastic display of talent, NFL free agent Dominic Miller tore a phone book in half, lifted students over his head and did pushups while students and teachers stood on his back.

But the assembly was more than just a show of athletic skills.

Crevier, Miller and six other guest speakers were selected from around the world to deliver a message of positivity this week to local audiences of all ages through Champions For Tomorrow.

The program tailors its speeches to its audience, covering such topics as peer pressure, character building, dreams and goal setting, drug and alcohol awareness, bullying, depression, abstinence, gangs and more.

Champions For Tomorrow speakers visited nearly a dozen Clovis Unified schools to share their life stories and let students know "it's not how you start, it's how you finish."

"We love to inspire, motivate and just challenge them to make good choices, to respect, to say 'yes' to the right things and 'no' to the wrong things," said Crevier. "We use our talents as simply a tool to gain their attention and gain their respect and they really listen to what we have to say."

The former Women's Professional Basketball League player has traveled to more than 30 countries to perform and share a message of hope to people of all ages through her Spin-tacular Basketball Show. Crevier told the students and teachers gathered at Cole Elementary that although her father made just $11,000 a year as a farmer in South Dakota, she and her 11 siblings all ended up graduating from a university. They did it through perseverance, she said.

"Each of us have a personal story we share about being an overcomer. We want to give these kids hope and keep those dreams alive," she said.

Crevier even taught the audience the secret to balancing any pole — whether it's plastic or a wooden broom stick: "Look upward."

The basketball handler used balancing things as a metaphor for life.

"Look at the opportunity and don't always focus on your shortcomings," Crevier said. "Have the courage to look upward and find a solution."

Dominic Miller, a standout defensive linemen at the University of Houston, helped his team to one of its best seasons in school history, with a conference championship in 2015.

The 6-foot-4, 315-pound NFL free agent has spoken at more than 500 schools, prisons and juvenile detention centers over the last five years to inspire others who may have had a hard childhood like he did.

"When I was very young, both my mom and dad were in prison. My mom and dad made a wrong choice by listening to the wrong voice," he told the Cole Elementary students.

Miller also spoke about his struggles with a learning disability and the anxiety he faced during "popcorn reading" sessions at school.

"I couldn't read well," he said. "But remember this: readers become leaders and hard work pays off. … I was the first one in my family to walk the stage and receive my college degree. The first one, guys."

The students, drawn in by the upbeat, action-packed live show, repeated after Miller with enthusiasm: "Excellence! Education! Effort!"

"What size dream, or what size vision, did you wake up with this morning?" Miller asked the crowd.

"Big!" a few of the students yelled.

Miller asked some students and teachers to volunteer to be his visual aids, representing small dreams up to big giant dreams. Then each of the volunteers took turns standing on Miller's back while he performed a pushup.

"Push," Miller said, using the word as an acronym for "Persevere until success happens."

During his demonstration, Miller lifted two students above his head as they clutched a metal rod.

"Hold on to your dream," he told them. "Hold on to your vision and never give up."

Champions For Tomorrow

(559) 299-6769

www.championsfortomorrow.com


Read more here: http://www.fresnobee.com/news/local/community/clovis-news/article106274272.html#storylink=cpy
AUGUST 2016
A Chaplain in a Correctional Institution had this to say about Tanya's appearance:
Dear Tanya
WOW, our inmates are still talking about your time spent with us.....last week. Let me say what a true blessing it was to have you with us. I only wish we would have had more time to sit and talk and share. I went home and gave my boys the basketball and the towel you gave them from the [professional] Arena. I wish you could have seen them. They could not believe that someone would give them something like that and not know them. Your impact on the place was amazing. Thank you from the bottom of my heart for what you allowed God to do through you and for what you did for my two boys. God Bless you Tanya and I look forward to seeing you in the future.

Tanya,
What a spectacular show you performed! Everyone of us were absolutely enthralled and amazed. I downloaded the video footage I took to YouTube and pray it blesses others as much as your performance blessed all of us. A SCHOOL IN FLORIDA - AUGUST 2016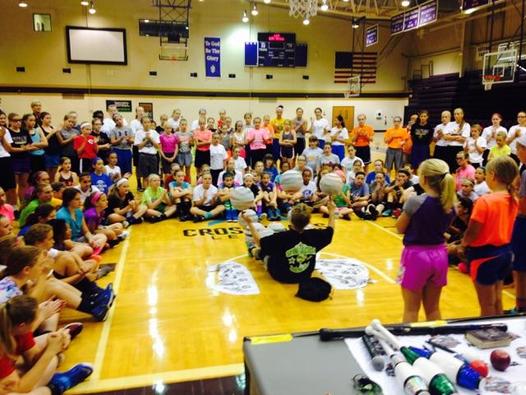 Tanya impacting youth at basketball camps in June 2015 in various parts of the United States.
---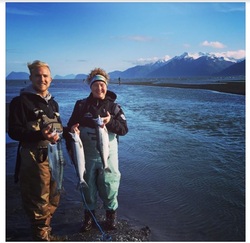 Tanya and Caleb fishing for real while at camps in Alaska in June, 2015
---
Tanya putting a smile on the faces some eager students at a Hutterite colony!

---

Tanya, Caleb & Isaiah in Mexico!!

---

Tanya at UNC in July 2014 - She and Caleb are spinning 10 basketballs at the finale performance at the camp!




---

Hello Tanya!

Today, you were at my school......I really want to thank you so much for coming. I honestly never even knew of you before you came, but I'm so glad I know about you now.

You are truly my inspiration now. For a few years now softball has been my life. I went from second base man, to being a pitcher. I practiced for hours trying to get a position as being a pitcher. One game our pitcher before me got injured. My coach had heard I had been practicing pitching and he let me pitch the game. Of course, since it was my first time I didn't do the best. And I was down about it, but I kept practicing and practicing.

This year is my fourth year of playing softball. I am in 8th grade and I had lost all my hope of ever becoming better than I am. I quit practicing. I told my parents I wasn't going to play when it got to season. They were very upset and told me I had to play or I'd have no privileges. My dad is a preacher and I have really never payed attention to the words "Never give up on your dreams" or "God put you on this earth for a reason. He has a plan for you", but thanks to you, I am now going to listen to these sayings. You have brought me hope. I am now going to start practicing a lot, and try to be the best I can be.
I honestly think God sent you to my school for a reason! Thank you so much.

Inspired Student!




Great time in Fresno!!!

---
Tanya in Virginia the first week in June 2014 at school assemblies!! ENTHUSIASM!!

---

A Delta Employee Took This Picture of Tanya and Josiah as they were Boarding a plane in May of 2014. This is what he said:
Dear Tanya and Josiah:
So good to have a chance to meet you both...know you have been staying busy with all your performances. Know you always have many smiling faces. Thought you might enjoy having the enclosed pictures too...and hope they add to your scrapbook of your special times together and may they always remind you how "special" you are to all whose life you touch! Thanks for touching mine..........

---

LETTER TO TANYA - March, 2014

"...Allow me a moment to thank you for setting the tone for the weekend. Everyone enjoyed your amazing basketball skills but god gave you a unique way to share the Gospel. You are an All-Star!..."

Les Steckel, President/Ceo
Fellowship of Christian Athletes

---

Everyone looking on as Dave Pendleton Wows! his audience with ventriloquism!

---

LETTER TO TANYA - March, 2014

"...THANK YOU!...for your superb performance and inspirational challenge at our awards celebration!...It was so awesome to see you again! You are so talented and uplifting!

Celebration in Gainesville, Virginia, March 2014

In Kentucky Schools in May 2014 - This little guy is the "STAR"!!!

---


Hula-Hooping and Spinning in Kentucky in May 2014

---
---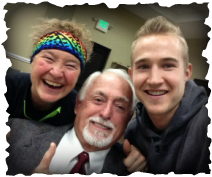 Tanya and Caleb pose with friend Jack Murphy in early March, 2014, before going into the prisons with Champions for Life Prison Ministry.
---
Tanya in action at various FCA events in the schools and half times!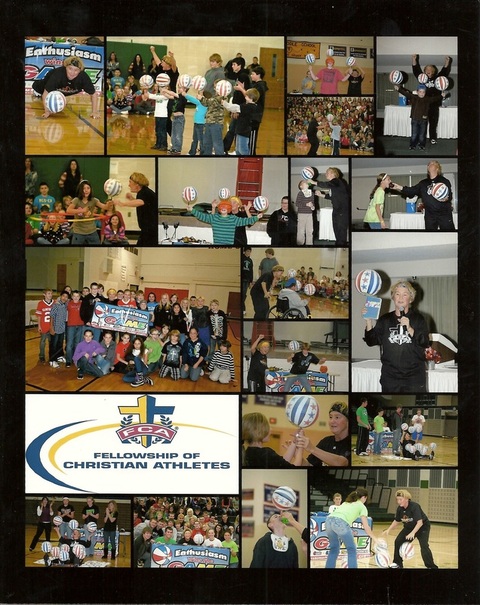 Tanya in action at various FCA events in the schools and half times! - 2014
---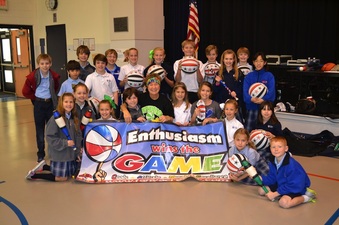 Here is Tanya pictured with some fourth graders in a recent school where she performed her basketball show and spoke to motivate the youths in the first part of December, 2013.
---
---
Pictured below is Tanya with her nephews Caleb on the left and Isaiah on the right. They traveled this summer of 2013 to Alabama where they exhibited basketball skills and WOWed audiences with their "Spin-tacular" Basketball
Show- spinning, juggling, and handling basketballs and riding unicycles while juggling and doing other basketball tricks.
---
From: Kentucky School
Date: october 15, 2013, 10:07:57 PM EDT
To: tanya@tanyacrevier.com
Subject: So Inspirational!
"Hello, Tanya! You were at my High School in Kentucky today, and I had to eprsonally email you myself; your show today was very inspirational. Just like many other people, I have been contemplating a lot lately with what I want to become in my future. Your show today completely changed my outlook on how I will apply myself. Even if I might fail in the process, I know if I apply myself I can become anything I want to be. Thank you so much, again! Your testimony is truly touching. Thank you for not being ashamed of the Gospel! God will continue to bless you as you bless others! (:

---
BILL GLASS PRISON MINISTRY LETTER,
sent May 11, 2013:

Dear Tanya:
"I want to thank you for visiting my daughter's prison camp in march, 2013. She is a Christian who was led astray but has come back to the Lord. It was very encouraging to see your people. Thank you again.

I am a grieving but grateful mother. You may never know all the 'thank-yous' out there for you, and I will continue to pray for your ministry.

---

From: Kathy
Sent: Tuesday, August 21, 2012 7:54 AM
To: 'Tanya Crevier'
Subject: Sunday August 12
We loved having you with us Tanya. It was a great evening thanks to you. I was not expecting you to jump right in at the beginning of the picnic to play with the kids, and I really appreciated that. Your playing and teaching them gave something to draw them in right away! You just brought a level of enthusiasm and energy to the whole evening. Loved it! I can't believe what you can do with a basketball! God has really blessed you with a unique way to share the Gospel. So thankful for you. We will continue to be in prayer for your ministry and look forward to hear how God uses you.

Kathy

---

From: A Student
Sent: Wednesday, March 07, 2012 7:15 PM
To: tanya@enthusiasminternational.com
Subject: Inspired!

Dear Tanya,
I just wanted to say that you are so inspiring! You have really motivated me to try m y best, and to strive for excellence in school, and my favorite sport Taikwondo! This year I am in the top 10 in the world so I can compete for World Champion in Taekwondo and I feel more prepared because the night after yoru speech the first thing I did was practice for hours! I am now doing much bette rin sports and school work. Thank you so much for coming to my school and motivating me to do better in everything I do!


---

FROM: Activity Director
TO: tanya@tanyacrevier.com
SENT: Fri, Feb 10, 2012 19:03:58 GMT+00:00
SUBJECT: Thanks Again!

Tanya,
I just wanted to say thanks again for stopping by our Health Care Center and sharing your talents with our residents. They are still talking about the "basketball lady." I'm not sure who had the most fun--them or me. I was very impressed--not only with your basketball abilities, but with your chirstian viewpoints and actions. You are such an inspiration. You came in and I immediately saw joy and happiness covering your face. I can tell that you really enjoy what you do. Please know that you are always welcome here at our health care center. Thanks again for sharing your talents and your words with staff and residents.

Activity Director

---

Grateful

Tanya,
I am sending you this letter because you were willing to come...! This was my first time seeing your basketball performance and found it to be truly entertaining. I really liked the fact that you ussed audience participation in a unique and interesting way. You truly put on a very entertaining show along with music. I was so awesome to see your enthusiasm for what you love doing. I also really apreciate you sharing your thoughts with the audience. It was very apparent that you captivated the attention to everyone who was watching your control of dribbling and spinning the basketballs.....I really enjoyed your whole show. However, I really found it awesome that you were able to spin ten basketballs at the same time. And, I enjoyed the telescoping pole being raised up tot he gymnasium ceiling while it was still spinning and being balanced by you!....Thanks for coming!

On February 18, 2013, at 8:52 AM, someone wrote:

"Hi Tanya....you spoke and put on an awesome show at our....award ceremony last night....I just wanted to let you know what a wonderful speaker and entertainer you are. My children and I have been discussing joining the church and asking Jesus to be part of our lives. It was touching when you asked if anyone wanted to accept Jesus in their lives and my two children raised their hands and prayed with you. They have talked about you non-stop. I recently divorced my husband after many years of abuse.....I miss Jesus in my life. It has been very hard on myself and my two children. Every day we get stronger and I know accepting jesus back in our lives will complete myself and my children. I don't know if you will actually receive this email, but I wanted to let you know what a wonderful inspiration you were to myself and my children.

Thank you so much,
A Grateful Mother

---

Sent: Monday, March 26, 2012 1:23 PM
To: tanya@tanyacrevier.com;
Subject: Letter of Recommendation

Tanya.
Today the church secretary handed me a check from you for scholarship money for basketball and cheerleading season next winter. What a wonderful surprise! Thank you so much! You are the only speaker/presenter that has given back to Upwarde in the 5 years that we have been doing this! I looked on the Upward website and on your website for a place to put my letter of recommendation for you and your Upward Show. I found an area on the Upward website where I could rank your performance up to 5 stars, which I did, but there was no place to upload the letter I had written.

I am placing my comments below in hopes that you might be able to use them to update your website references. See below:

Tanya Crevier did a 'bang up' job for our Upward Ceremony this evening!

She kept her audience engaged with what seemed like an unlimited number of ball tricks, audience participation, (players, cheerleaders, and coaches) and upbeat music. I would estimate that one-third of her entire program was spent putting others in the 'limelight' so that they could catch the thrill of being cheered and applauded.

Tanya's program was upbeat, full of enthusiasm,a nd motion. It starte with simple ball handling tricks and progressed to advanced moves (including two-ball and three-ball tricks). The climax included two stunts that held her audience spellbound. Throughout the evening, children volunteers of all ages were brought onto the stage and were quickly engaged in holding one or more spinning basketballs. Spontaneous applause and gasps of unbelief were heard throughout the auditorium as tanya completed one trick after another. There was no lull in this program!

Tanya wove stories, scripture verses, values, and her faith in Christ into the short 40-minute presentation. She taught teh players to 'never give up' and at the end of her program gave a simple yet direct, invitation for audience members to pray the Sinner's Prayer aloud with her. After the crowds had left for the evening. Tanya was most excited to tell of an 8-year-old boy who came to her after the award ceremony and said tha the had askied Jesus into his heart that night!

Tanya was personable, wonderfully flexible, and exceptionally grateful. She responded quickly to emails, and had a 'bare-bones' contract....not loaded down with a checklist of specifications.

I would highly recommdn Tanya Crevier to any Upward League Direct who is searching for 'sure hit' performer. She will apepar on our roster of performers in the near future!

Cedar Rapids, Iowa